It's that time of year again! Holidays and shopping, massive sales and hot chocolate. To get into the joy of the season, I've been drinking hot chocolate by the bucket and doing a lot of my own shopping. But now, I'm spreading the joy of sales and shopping to you.
You can buy any service (Developmental Editing, Line Editing, Copyediting, Back Cover Copies, Book Bibles, Marketing Quotes, or Novel Research) between 11/21/2017 to 11/27/2017 for half off. Yes, 50% off of everything!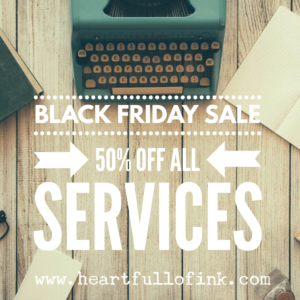 Have you wanted to get a detailed oriented, color-coded book bible? Now's the time! Does your novel need to be edited? I'm here for you. I am your one stop shop for all of your bookish needs. And it's all on sale.
Don't have your novel finished yet? Don't worry! You can buy the service now and schedule it anytime between December 2017 and November 2018.
Or, if you know a writer and want to buy them a gift that helps their career, you can buy any of these services for them, and surprise them during the holidays. (Then, they can schedule the time that works best for them.)
Hurry! Don't let this sale slip by. Contact me today or email me at info@heartfullofink.com and tell me about your story.